Turtle Mountain Forest Management Team Receives Roaming Bison Award
Thursday, September 7, 2023 - 01:30 pm
CLICK HERE FOR VIDEO AND PHOTOS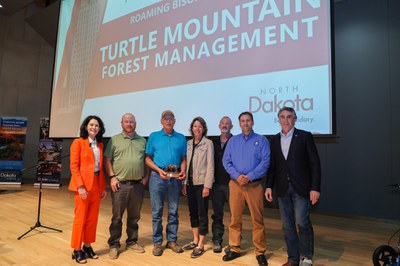 BISMARCK, N.D. – Gov. Doug Burgum and Lt. Gov. Tammy Miller today announced the 2023 Governor's Awards for Excellence in Public Service, recognizing team members across state government for their commitment to providing the highest levels of service to North Dakota.
"We continue to be impressed by the exceptional work and new and innovative ways in which members of Team North Dakota are making a positive difference in the lives of our citizens," Burgum said. "Nearly 1,000 nominations were received this year from individuals highlighting the accomplishments and outstanding work of their fellow team members. We are deeply grateful for the award recipients and all Team ND members for their dedication to our citizens and their tireless efforts as they deliver on our shared purpose to Empower People, Improve Lives and Inspire Success."
Burgum and Lt. Gov. Tammy Miller presented the awards during a ceremony livestreamed from the North Dakota Heritage Center during State Team Member Recognition Month.
The awards and recipients are:
Pioneer Award for Excellence in Innovation: Lucas Pippenger, Active Defense Team lead in North Dakota Information Technology, for his innovative efforts to transform how the state responds to cyberthreats, as well as his work on the 12-state Joint Cyber Security Operations Center, a cyberthreat intelligence-sharing group founded by North Dakota.
Zezula Award – "One Who Helps": Capt. Bryan Niewind, North Dakota Highway Patrol, for responding with professional aid in times of great stress and tragedy, including in the aftermath of officer-involved shootings in Fargo in 2022 and 2023, as well as his efforts to support and enhance Vision Zero with new traffic safety strategies.
Harvest Award for Excellence in Quality: Taylor DeVries, environmental scientist, Department of Environmental Quality Spill Response team, for her ability to effectively and knowledgeably communicate and work with landowners and operators during spills and her commitment to remediating and protecting North Dakota lands for future generations.
Landmark Award for Excellence in People Management: Tony Hillig, recreation chief, North Dakota Parks and Recreation, for his leadership in allowing the recreation team to best use their skills and experience, including with off highway vehicle (OHV) and snowmobile safety training courses, and his instrumental role in developing a working relationship around OHV trails on both tribal lands and the Turtle Mountain State Recreation Area.
Telegraph Award for Excellence in Technology: Travis Lutman, intelligent transportation systems (ITS) engineer, Department of Transportation, for his instrumental work in developing a network of ITS devices across the state highway system to improve the travel experience and safety on North Dakota roads.
Heritage Award for Excellence in Citizen Focus: Garrett McLain, Department of Corrections and Rehabilitation, for his work with the Restoring Promise Initiative at the State Penitentiary and its U.N.I.T.Y. Village, helping prison residents become productive and safe neighbors when they return to the community.
Frontier Award for Excellence in Continuous Learning: Charlene Rittenbach, senior forensic scientist in the North Dakota Crime Lab, for her enthusiastic work to embrace change and educate others in the field of forensic science, including her work on a highly technical bill related to synthetic cannabinoids during the most recent legislative session.
Sodbuster Award for Excellence in Growth Mindset: Nancy Nikolas Maier, director of Aging Services in the Department of Health and Human Services, for her work in transforming how North Dakotans think of aging services, inspiring her team to seek people-first solutions and supports, and leading the charge to help North Dakotans age in place as members of their communities.  
Roaming Bison Award (Team) – 3 recipients:
ND Roads Travel Map team, for providing users of the ND Roads app with accurate and real-time updates on road conditions – especially during significant weather events – helping to keep the traveling public informed and highlighting the work of the road crews, law enforcement and first responders who keep the roads open and safe.
Turtle Mountain Forest Management team, for their joint efforts between the North Dakota Forest Service, Game and Fish Department, NDSU Extension and Turtle Mountain Band of Chippewa to ensure the unique and cherished forest area is managed sustainably for current and future generations.
Pembina Gorge State Park founding team, for their work to achieve the designation of North Dakota's newest state park in over 30 years, including a carefully designed and executed plan to garner support from the legislature and the public, highlighting the incredible tourism and recreation opportunities of the Pembina Gorge.