North Dakota Tree City USA Communities Recognized
54 communities from across the state will be recognized at the 32ND Trees Bowl and Awards Ceremony sponsored by the North Dakota Forest Service and North Dakota State University. Honorees will be celebrated at the Fargodome on Saturday, September 10th, 2022. The Trees Awards recognize individuals, organizations, and agencies who contribute in an outstanding way to forestry activities.
These 54 communities have made an exceptional commitment to their urban and community forest resources and have earned the designation of "Tree City USA" through the Arbor Day Foundation. To earn this recognition, communities must meet four overarching standards. They include maintaining a tree board or department, having a community tree ordinance, spending at least $2 per capita on urban forestry, and celebrating Arbor Day. These efforts impact our state's health, safety, and economy; enhance our quality of life; and make our cities and towns a more beautiful place to live, work, and play.
The winners will be provided a noon luncheon in the Fargodome, which will be followed by the awards ceremony at 1 p.m. NDSU President David Cook and State Forester Thomas Claeys will present each winner with a certificate. The winners will also attend the "Trees Bowl" NDSU football game against North Carolina A&T at 2:30 p.m. and be recognized on the field during half-time. Following the game, the North Dakota Forest Service will distribute 3000 free tree seedlings to attendees.
The 2022 honorees include: Arthur, Bismarck, Bottineau, Cando, Carrington, Casselton, Cavalier, Cavalier Space Force Station, Cooperstown, Devils Lake, Dickinson, Ellendale, Fairmount, Fargo, Forman, Garrison, Grafton, Grand Forks, Granville, Gwinner, Harvey, Hatton, Hazen, Jamestown, Kindred, Lakota, Langdon, Lankin, Larimore, Lincoln, Lisbon, Mandan, McVille, Milnor, Minot, Mohall, New Rockford, Northwood, Oakes, Pekin, Rugby, Rutland, Sibley, Tower City, Towner, Valley City, Wahpeton, Walhalla, Washburn, Watford City, West Fargo, Williston, Wishek, and Wyndmere.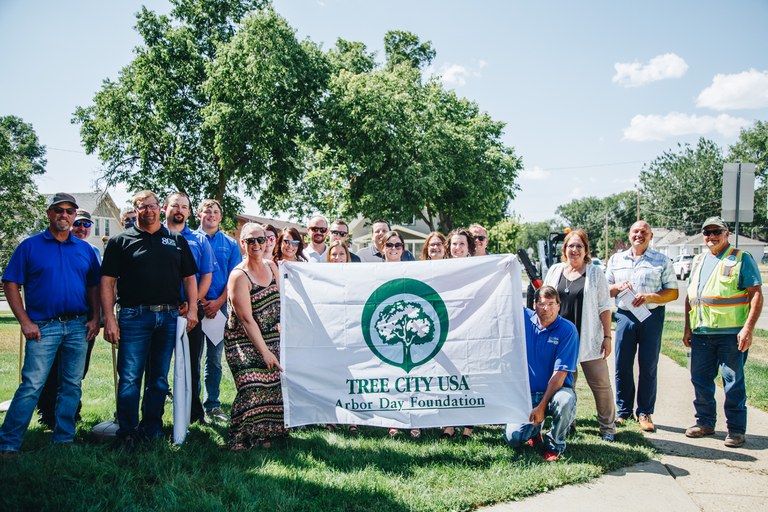 The community of Dickinson celebrated Arbor Day in 2020 with a tree planting at Roosevelt Elementary. Dickinson has been a Tree City USA for 29 years.