Fall Tree Color and Care
Autumn is a season of change, and many North Dakotans spend their last travels of the season chasing fall color around the state. These changing colors can be seen throughout North Dakota from mid-September through mid-October. The Farmer's Almanac has predicted the peak fall colors for North Dakota's deciduous species to occur from October 5-21. However, the growing degree days and drought stress have put us about one and a half weeks ahead of normal. Because of this, color change will likely be less intense and more short-lived this year. We will likely notice foliar color change to begin first in the east and northeast, and move westward across the state.
Tree care this fall will be especially important this year, to prepare trees for the stress of winter after a harsh summer season. Following these tips from the North Dakota Forest Service will help keep your trees healthy during their winter dormancy:
If the ground is dry, deep water your tree(s) at least once a week until the ground freezes up. This will recharge soil moisture for spring growth and lessen the chances of winter injury.
Apply mulch around trees approximately 3 inches deep but keep the mulch 4-6 inches away from the base of the tree. This will insulate the soil, hold soil moisture, and protect roots. Wood chips or shredded bark are best.
Fall transplanting should be completed while soil temperatures are still warm enough to allow for several weeks of root growth into the new soil (Figure 2, NDSU Extension publication F1785 "Tree Planting in North Dakota"). Planting beyond the recommended dates certainly may work, but the chance of success decreases later in the year. Take care to keep the soil ball together and the fine roots moist.
Wrap the trunks of young and small trees with a tough, plastic tree wrap. This will help protect them from winter sun scald and rodent damage.
Burlap wrap or shield small, high-value landscape conifers.
Prune your branches once the tree is dormant; late winter and early spring are the best times for this. Dead wood can be pruned at any time.
Remove or destroy leaves after leaf fall, especially those infected with fungal diseases.
During winter, be careful with ice melt around trees. These salts can easily damage trees.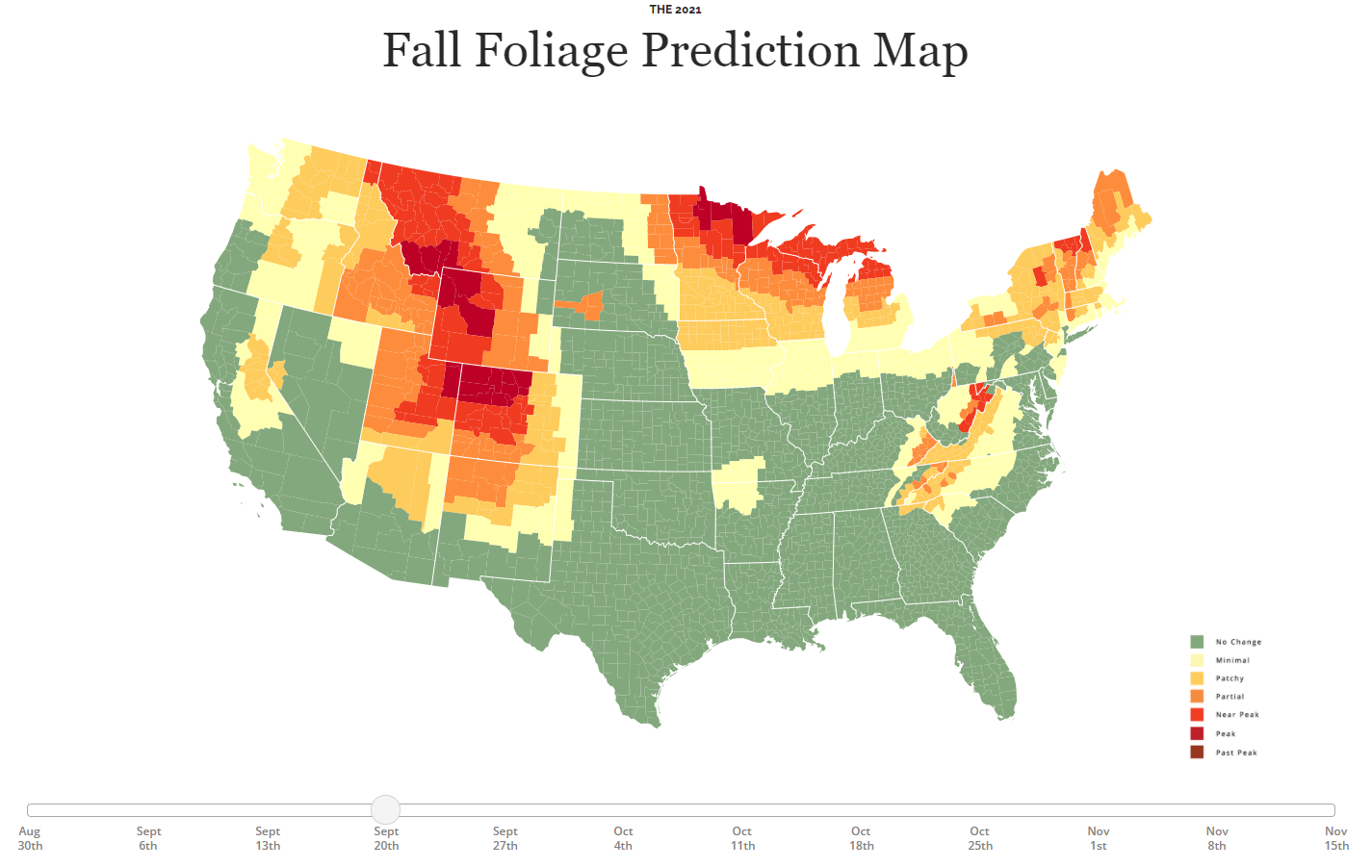 To see a predictor map of fall foliage in your area, visit https://smokymountains.com/fall-foliage-map/.