Shea Brandt Named Field Production Technician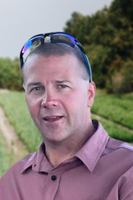 The NDSU-North Dakota Forest Service welcomes Shea Brandt as the new Field Production Technician at Towner State Nursery. Brandt began his duties on February 16, 2023. The Field Production Technician is responsible for 

administering the production of the 1.2 million bareroot trees that the nursery produces annually, and serve as lead equipment operator.

Shea is a familiar face at the nursery, having served as a season large equipment operator since spring of 2021. He brings a wealth of technical skills to the program, and the agency is pleased to have him as part of the team full-time.

Born and raised in Upham, North Dakota, Shea was one of the last classes to graduate from Upham High School. He brings a wealth of knowledge and skill from his experience as a welder, farm and ranch hand, and seasonal large equipment operator at the nursery. He spends most of his spare time camping and being outdoors with family and friends, and enjoys working on small engines, especially his classic snowmobiles.

He says, "I look forward to becoming a permanent employee with the Towner State Nursery and the North Dakota Forest Service, working with the great staff here and being part of the development of the future for the Nursery".