North Dakota Celebrates Arbor Day May 7, 2021
North Dakota Celebrates Arbor Day May 7, 2021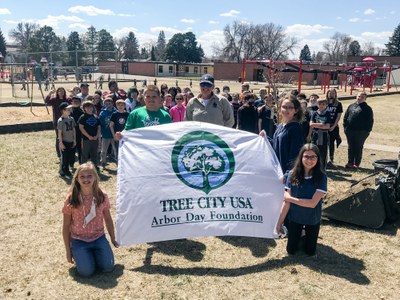 On Arbor Day, we celebrate all of the wonderful benefits that trees provide by remembering to take some time to plant, care, or maintain a tree. Just being around trees improves our mood, reduces stress, and lowers blood pressure. They perform environmental services like providing shade, windbreaks, filtering pollutants, and producing oxygen. Trees also increase tourism, raise property values, and make our communities more attractive places to live, work, and play.
State Forester Thomas Claeys said, "Arbor Day is traditionally celebrated the first Friday of May in North Dakota. In 2021, we invite people to plant a tree as a symbol of resilience and hope. A tree planted today can enhance the quality of life for present and future generations." 
The state Arbor Day celebration will be held on Friday, May 7, 2021 at Dakota College at Bottineau, one of North Dakota's four Tree Campus Higher Education campuses. The event will take place on the lawn just south of Old Main. The event will begin at 10:00 AM with a ceremony featuring current State Forester Thomas Claeys, former State Forester Larry Kotchman, and Campus Dean Dr. Jerry Migler. A tree planting and refreshments will follow the ceremony. All are invited to join and celebrate.
In 1872, J. Sterling Morton proposed the first Arbor Day in Nebraska. Ten years later, tree enthusiasts in North Dakota began celebrating Arbor Day. In 1945, the North Dakota legislature officially adopted Arbor Day as a state holiday. Many communities in North Dakota celebrate their own local Arbor Day, so find one near you! Even if you are unable to attend an in-person celebration, here are a few other ways that you and your family can celebrate Arbor Day at home:
Take a walk in your neighborhood and enjoy trees in your community.
Plant a tree in your yard.
Make a craft from items that you can gather from a tree, such as leaves, twigs, pine cones, etc.
Pick up litter on your street.
Have a family picnic in your backyard.