Jeff's Top Ten Trees to Try on Your Landscape
"Looking for more shade, color, or privacy for your backyard? These landscaping trees are sure to beautify your property, whatever your needs!"
Believe it or not, tree planting can be done in the fall. As autumn starts to set in, some homeowners may be thinking about planting a tree or two on their landscape and looking for suggestions. I have worked with plants my entire adult life here in North Dakota, and over time, I have developed some favorites! I put together a top ten list of some of my favorite trees; all are cold hardy and do well with North Dakota's climate.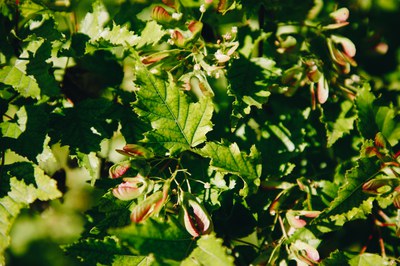 1. Amur Maple: Sun to partial sun, 20 x 20' in size. Grown as a small ornamental tree with single or multiple stems. Amur maple has small yellow fragrant flowers in spring followed by reddish samara seeds in mid-summer. Maples are best known for their fall colors and Amur has outstanding fall foliage ranging from yellow-orange, to burgundy-red. One of the best maples for North Dakota with our higher pH soils.
2. Paper Birch: Sun to partial shade, 30 x 40' in size. Grown as a medium sized ornamental/shade tree. The most popular form is in a clump. Birch prefer well drained but moist soils. Paper birch is another native to North Dakota, usually found on the side hills of the Killdeer and Turtle Mountains or woodlands in the Pembina Gorge. Paper birch is prized for its chalky, white, peeling bark and fast growth. Prairie Dream® is an NDSU release.
3. 'Silver Cloud' Silver Maple: Sun to partial sun, 30 x 40' in size. This is a Canadian release of silver maple that really does well in North Dakota. 'Silver Cloud' grows more slowly and has great branching habits. This maple has grown well for me on dryer sites with slightly alkaline soils.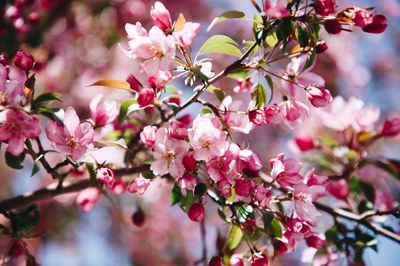 4. Flowering Crabapple: Sun to partial sun, 15 x 30' in size. Flowering crabs are beloved because of their compact growth, adaptability, and beautiful flowers in the spring. Some of my favorites are 'Spring Snow' (white flowers and fruitless), 'Red Splendor' (pink flowers with red persistent fruit for wildlife), Royal Raindrops® (pink flowers with red, maple-like leaves), and 'Thunderchild' (pink with maroon leaves all summer).
5. Quaking Aspen: Sun to partial sun, 30 x 50' in size. Quaking or trembling aspen are the most widely distributed deciduous tree in North America. That says something for its adaptability. Native aspen clumps sucker out and get larger every year, forming clones of each other. They grow fast and like well-drained, moist sites. Fall colors range from gold to orange.
6. Linden or Basswood: Sun to partial sun, big range of 30 x 70' in size. Linden or basswood are native to east part of ND along riparian sites. They have small, fragrant yellow flowers in spring and the leaves turn golden in the fall. Lindens prefer deep, rich, moist soils of riparian flood plains, but do well in urban settings. Most linden start out pyramidal in shape when young. Some will open up and become more rounded as they age. Some of my favorites are Frontyard® (nice symmetrical shape), 'Redmond' (pyramidal, uniform shape), and 'Harvest Gold', which is a cross between littleleaf linden and Mongolian linden. This hybrid grows a little smaller and is upright, oval shaped.
7. Elm Hybrids and Crosses: Sun to partial sun, big range of 30 x 60' in size. Tree researchers have come a long way to develop trees with resistance to Dutch elm disease. Elms grow fast and are well adapted to our conditions in North Dakota. Most are vase shaped and have yellow fall color. Some selections to try are Prairie Expedition®, an NDSU release American elm. Accolade™ and Triumph™ are both hybrids with good DED resistance. Two more compact elms with Japanese elm parenting are 'Discovery' and Northern Empress™; both have good resistance to DED. Northern Empress™ is an NDSU release and has a red fall color!
8. Bur Oak: Sun to partial sun, 30-60' in size. Bur oaks are native, long-lived, and well adapted for our climate. Bur oak can grow fairly fast on good sites once established. Fall color is golden brown. The acorns produced by bur oak are eaten by many species of wildlife like deer, turkeys, and squirrels.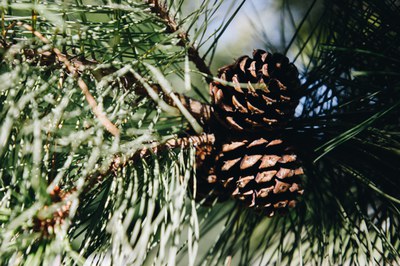 9. Ponderosa Pine: Sun, 30 x 60' in size. Ponderosa pine are native to Slope County in the southwest part of North Dakota. Ponderosa pines are an important timber production tree and are the most widely distributed conifer in North America. They have long needles and grow pyramidal when young, opening up in the crown as they age. 
10. Apple: Sun to partial sun, 15-25' in size. Apples are a favorite of many, with their biggest attribute being the edible fruit they can provide. Fragrant May flowers are pink and open to white. Some great cultivars are Fireside, Haralson, Honeycrisp, and Honeygold.
A few honorable mentions would include Prairie Horizon™ Manchurian alder, a smaller tree that is an NDSU release that is suited for tough sites. Ohio Buckeyes have palmately compound leaves, gorgeous fall color, and attractive nuts for the squirrels. Hot Wings® Tatarian maple is a tree for all seasons, with bright red samaras and good hardiness for our North Dakota soils. Lastly, Honeylocust grows fairly large and provides a filtered shade due to this tree's small leaves; NDSU has released a popular one called Northern Acclaim®.
Jeff is the current manager at the Towner State Nursery, which specializes in growing conservation seedling trees for the region. Prior to this employment, Jeff worked as a nurseryman and landscaper at Lowe's Garden Center of Minot, ND, for over 23 years.
By Jeff Smette, Nursery Manager, North Dakota Forest Service