State Envirothon Winners Announced
Bismarck, ND -----Bismarck High School "Water Buffalos", coached by Valerie Smallbeck, sponsored by Bismarck High School, received top honors at the 21st Annual North Dakota State Envirothon Competition. The event was held virtually, May 10-14, 2021. Team members are Brooke Bondley, Jake Havelka, Makai Ogoshi, Micah Penn, and Mackenzie Swenson.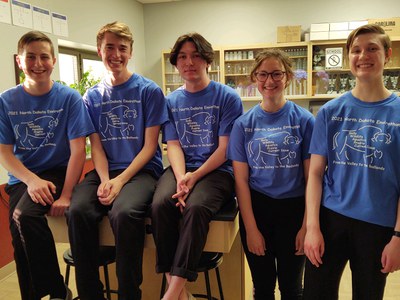 A total of 70 students from around the state were challenged on their knowledge and skills using a virtual testing platform to see who knew the most about natural resources and the environment. The scores received from a 10-minute oral presentation given before a panel of judges, along with the scores earned on the testing trails, determined the team who will represent North Dakota at the Virtual National Conservation Foundation Envirothon Competition, in Nebraska in late July 2021.
Second place honors went to Bismarck High School "BHS Water Beatles" Envirothon Team, coached by Valerie Smallbeck, sponsored by Bismarck High School. Team members are Gabe Hanson, Marin Traynor, Lucas Wetzel, Ashely Goetzfried, and Theresa Horning.
Third place honors went to the Minot Bishop Ryan "Bishop Ryan Knotweed" Envirothon Team, coached by JoAnn Schapp, sponsored by the Ward Co Soil Conservation District. Team members are Kennedy Hawk, Kacie Klein, Casey McMahon, Zoe Langford, William Willson, and Erin Egpit.
Bismarck High School Envirothon Team "Water Buffalos" took top honors on the Wildlife, Soils and Prairie/Forestry Trail and won the Oral Presentation portion of the competition. MLS Mohall "Danger Cats" scored highest on the Aquatics Trail.
The Envirothon is a problem-solving natural resource competition for high school students. Teams consisting of five members in grades 9-12, from a school, organization or club, study in the areas of prairie(forestry), soil, water, wildlife, and a current environmental issue. Team members demonstrate proven concepts of hand-on education combined with the excitement of effective educational tools, which will help our schools to nurture environmentally aware students and meet the immediate need to teach more environmental natural resource education.
The North Dakota Envirothon is a North Dakota non profit 501© 3 organization. We partner with local, state and federal agencies, organizations, private business and Soil Conservation Districts to educate high school students annually. For more information, contact Andrea Petersen, North Dakota Envirothon Coordinator, 720-384-5817.