Past Events-ACMAP 5th Annual Conference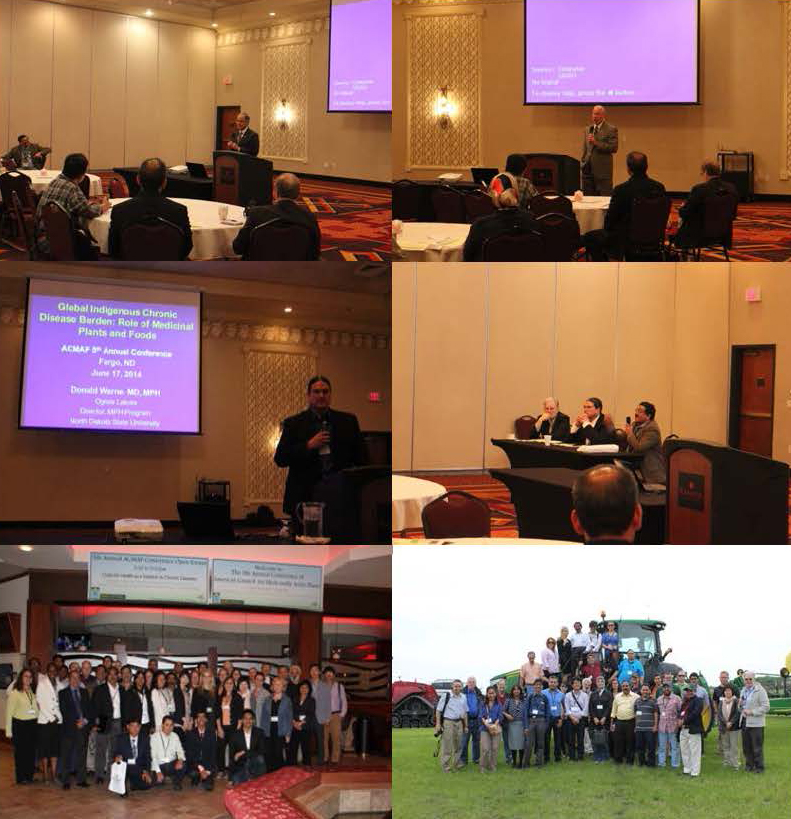 American Council for Medicinally Active Plants Conference Held in Fargo
More than 55 researchers from 14 different countries and 14 different states in the U.S. traveled to Fargo June 16-18 to participate in the 5th Annual American Council for Medicinally Active Plants Conference. The countries represented were Australia, Brazil, China, Chile, India, Ireland, Japan, Kuwait, Nigeria, Saudi Arabia, South Korea, Taiwan, Turkey and the U.S.
ACMAP was established in 2009 "to promote and foster research, development, production, and conservation of medicinal, aromatic, and other bioactive plants useful to human health." (http://www.acmap.org/) Members include scientists in the studies of agriculture, chemistry, food, science and safety, health, nutrition, molecular biology, manufacturing and commerce, to name a few. Previous conferences were held in New Brunswick, NJ, Huntsville, AL, Jonesboro, AK and the University of Massachusetts in Amherst. This conference was sponsored by ACMAP and the North Dakota State University Global Institute of Food Security and International Agriculture which is directed by Dr. Kalidas Shetty.
Numerous research and poster reporting sessions were held during the 2 day conference. Topics covered included controlling non-communicable chronic diseases with functional foods and indigenous diets, the role of phenolic phytochemicals in human health, plant bioactives, plant metabolic engineering strategies, nutraceutical research and pharmaceutical products of plants and herbs. 
The first Keynote speaker at the conference was Dr. Mark Walhlqvist who presented "Current Global Challenges on Diet-Linked Chronic Diseases and the Role of Medicinal Plants".  Wahlqvist is known world-wide as a food and nutrition expert. He completed M.D. degrees in Adelaide, Australia and Uppsala, Sweden and has worked in numerous medical and research centers. He is currently a Professor of Epidemiology and Preventive Medicine at Monash University, Australia.
Dr. Donald Warne gave the conference banquet presentation titled "Global Indigenous Chronic Disease Burden: Role of Medicinal Plants and Foods."  Warne is the director of the NDSU Master of Public Health Program and was named director of the newly established American Indian Public Health Resource Center at NDSU. He received his Master of Public Health from Harvard and his M.D. from Stanford. His areas of expertise include public health policy, health disparities, American Indian health and family medicine.
Shetty, Warne and Wahlqvist also presented a forum which was open to the public. The title of the forum was "Crops for Health as Solution to Chronic Diseases: Strategic Vision for Agriculture and Global Food Security".
An optional tour on the third day of the conference included stops at Peterson Farms Seed Company in Harwood, ND, Bonanzaville and the state of the art NDSU Greenhouse. 
The chair of the planning committee, Dr. Dipayan Sarkar said that he was "very glad to have such a wide representation from all over the world. Conference participants were very happy meeting in Fargo and especially liked learning about production agriculture in this part of the world."