#5 - How much energy are you wasting from heating water?
You have a number of ways to minimize energy waste from water heating. First, check the temperature of your hot water; if it is above 120 degrees Fahrenheit, you can save money by lowering the  temperature. Mark the present setting with a permanent marker and turn it down a little at a time to minimize the impacts until water at the taps is 120 degrees.
Next, feel the water heater. If it is warm to the touch, it is wasting heat. Installing an insulated blanket could pay for itself in savings in as little as one year. Check with the instruction/installation manual or  manufacturer to ensure the safety of installing insulation on your model of water heater.
Low-flow shower heads are another great way to reduce home energy use. Newer shower heads significantly reduce water usage and provide a comfortable water pressure. Pipe insulation and heat traps can be used to reduce heat losses. Heat traps are simple backflow valves or loops that keep the hot water from slipping back into the water heater.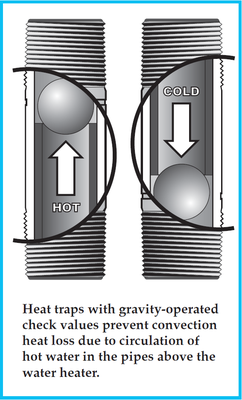 Wash clothes in cold water or use ENERGY STAR washing machines  and dishwashers.