Fire Management
The NDFS Fire Management Program focuses on the protection of lives, property and natural resources from wildfire. North Dakota Forest Service programs support the state's 378 fire departments, which are essential for enhancing firefighting capabilities and public safety. The program provides rural fire departments with cost-share funds for organizing, training, planning, and purchasing fire equipment.
Our NDFS Fire Staff are offering trainings for fire departments for the 2022-2023 year. To submit a request, complete the Google Form above. Please provide your contact information, select the training needed, and submit a date. We can come to your location or you can train at our fire hall in Bismarck. Once you have submitted a request, you will be contacted by a North Dakota Forest Service wildland fire management employee.
Cooperative Fire Protection Assistance Grants
Grant funds will be available for the purposes of enhancing fire protection and prevention capabilities of ND Fire Departments (FD). These funds may be used for vehicle purchases, equipment, personal protective equipment, firefighter training, fire awareness, and prevention efforts.The grant application period is open September 1 through November 18, 2022. Visit here for more information.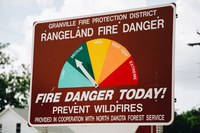 Fire Danger Signs
NDFS, in cooperation with the USDA Forest Service, provides fire danger signs to eligible rural fire departments. Please check out the following application to request yours: Fire Danger Sign Application

Employment Opportunities
Wildland Firefighter - Temporary
Contact:
Ryan Melin - Fire Manager
916 E. Interstate Ave #4 Bismarck, ND 58503
Tel: (701) 328-9985
Cell: (701) 220-1475
Ryan.Melin@ndsu.edu

Aaron Bucholz - Cooperative Fire Protection Technician
916 E. Interstate Ave #4 Bismarck, ND 58503
Tel: (701) 328-9946
Cell: (701) 934-4149
Aaron.Bucholz@ndsu.edu
Hunter Noor - Fire Technician
916 E. Interstate Ave #4 Bismarck, ND 58503
Tel: (701) 328-9944
Hunter.Noor@ndsu.edu
Peter Warmuth - Fuels Technician
916 E. Interstate Ave #4 Bismarck, ND 58503
Tel: (701) 328-9944
Peter.Warmuth@ndsu.edu
Related Links
National Weather Service Fire Weather Page        
North Dakota Firefighter's Association        
North Dakota Department of Emergency Services