Strategies for Selecting the Best Performing Varieties
How to select the most stable and high yielding varieties. Yield trials, multi-year and multi-environment data.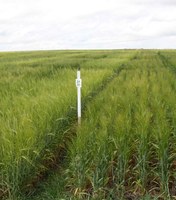 Barley variety trial
Selecting the the right variety can be key to the productivity and profitability of your operation, especially when other management practices are at optimum levels. Results from variety trials can provide you with information that will help you in selecting the best variety or varieties for your environment and your marketing program. The following steps can help you in selecting these varieties:
Use data from multiple locations and when possible multiple years when comparing varieties. Data from multiple environments will allow you to see the performance of a variety over a range of different climatic conditions.  Since we cannot predict the weather with much accuracy a year in advance, selecting a variety that shows relatively good performance across a range of environments or years will ensure that this variety will do relatively well regardless of the what the season might be like the following year. 

Consider the relative ranking of the varieties of interest in each location where they are tested, in addition to their ranking when averaged over all environments where they were tested. Stability of performance may be a better predictor of next year's performance than its average performance. Therefore, including data from other regions of the state can be helpful in determining a variety's stability of yield, even though not all locations are similar to the rainfall pattern and soil type of your farm.     

Don't forget to consider characteristic other than yield. Protein content can be a significant determinant of the value of the grain at harvest. Disease resistance can also pay big dividends in years when disease pressure is high, even in some cases, when fungicide is routinely used.  Earliness and plant height are other characters that could be important to your farm operation.