Grape
Eighteen varieties are being evaluated for making wine, jelly and juice, and eating fresh.

Grape Injury and Ripening Summary 2014
The CREC vineyard was planted in 2006 and 2007.  It consists of 19 northern-hardy varieties, most of which are University of Minnesota (UMN) or Elmer Swenson varieties.  The varieties were chosen based on the planting at NDSU's Absaraka Horticulture Research Farm and the listings in northern grape variety catalogs.  The grapes are arranged as a variety trial, with four plants scattered in four replications.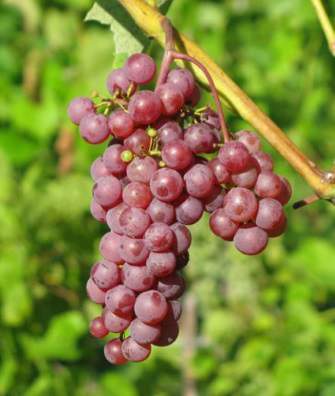 CREC Grows:
Bluebell
Brianna
Clinton (12 plants)
ES 6-16-30
ES 8-2-43 (4 plants)
Frontenac
Frontenac Gris
King of the North
LaCrescent
Louise Swenson
Marquette
MN 1200 (test)
Petite Amie
Prairie Star
Sabrevois
Somerset Seedless
St. Croix
St. Pepin
Valiant
Across the world, people love to grow grapes and North Dakotans are no different!  In 2012, the International Organisation of Vine and Wine report estimated that 39.0% of grapes were grown in Europe, 31.2% were grown in Asia, and 21% were grown in North America.  California accounted for over 90 percent of the 7.3 million tons of grapes grown commercially in the United States.  In North Dakota, we have has 11 licensed wineries and 17 vineyards. 
The development and release of cold-hardy wine grape cultivars by UMN in the late 1990s created a new and rapidly expanding industry of small vineyard and winery enterprises in 13 states in New England, northern New York, and the Upper Midwest. An economic impact report by UMN found that there are approximately 350 wineries and 21,000 acres of grapes (5,900 acres are cold-hardy varietals) in the surveyed area.  The grape growers in the participating states produced 72,000 tons of fruit in 2011.  The wine grape and locally-sourced winery industries in this region contributed $1.5 billion dollars to the economy, including $409 million of labor income. The industries generated 28,200 jobs.
The UMN economic report for North and South Dakota indicated that the total economic contribution of the grape growing and winery industries in 2011 was $26.4 million. This included 665 jobs and $8.8 million in labor income. Vineyards contributed $880,000 to the total, wineries $11.6 million, and winery tourists $13.9 million. Of this total, cold-hardy grapes contributed $16.8 million in economic activity and was responsible for the creation of 460 jobs and $5.6 million in labor income.
There are two main difficulties in growing cold climate hybrid grapes:
Ripening the fruit (so that sugars are increased and acids are lowered)
Developing desirable flavor and aroma compounds
Growers modify many practices to overcome these problems; primarily, they train the vines on trellises for optimum sun and air exposure, they grow less fruit per plant, they manage the number of buds to increase the amount of sunlight hitting the clusters and they manage the vineyard floor.  One factor that is almost impossible to overcome though is the amount of heat available in a growing year.  At the UMN vineyard, optimal ripening of 'Marquette' takes place at about 2550-2600 GDD (growing degree days).  In Carrington, North Dakota, the 30-year average is 2436 GDD.  You can see that growing grapes can be a struggle in our state.  Winemakers must be creative and work to lower acidity in their wines.
Against these odds, North Dakota grape growers and wineries are looking toward the future.  NDSU and Dr. Harlene Hatterman-Valenti are participating in the Northern Grapes Project, a partnership of research and local industry in 12 states.  Some of the goals of the project are to use research to optimize growing practices, to improve winemaking when using cold climate cultivars and to provide information that will help customers recognize locally-produced cold climate wines.
The North Dakota Grape and Wine Association has worked with the state legislature for several years to secure funding for breeding grapes that are even more cold hardy than those currently available.  In spring 2013, about 6,000 seedlings will begin their journey on the road to becoming a hardy wine grape. 
The source of these statistics and text is from the narrative of:
Economic Reports from University of Minnesota Extension: Vineyards, Grapes and Wineries of the North – http://www.extension.umn.edu/community/economic-impact-analysis/reports/
The Northern Grapes Project.  http://northerngrapesproject.org/ (excellent viticulture info)
Other links for more hardy grape information:
North Dakota Grape and Wine Association:  www.ndgwa.org
Minnesota Grape Growers Association:  www.mngrapegrowers.com
University of Minnesota:  www.grapes.umn.edu
Ohio State University:  http://viticulture.hort.iastate.edu/home.html
Michigan State University:  www.grapes.msu.edu