Gooseberry

Gooseberries are medium-sized shrubs that can grow readily in North Dakota.  Unlike the green goose-berries that many visitors say they were forced to pick and eat as a child on the Plains, the cultivars available today are a tasty summer treat.  The gooseberries selected at CREC are delicious fresh, like grapes.  They are also nice in fruit salads, jam and pies.
Modern cultivars include crosses of European and American species.  European fruits are said to be tastier and breeding with American species improved disease resistance and decreased spines on the stems.  In reading the literature, gooseberry species seem to be a taxonomist's nightmare but in general, European gooseberries are known as Ribes grossularia, while American plants are named R. hirtellum.1
Gooseberries grow quickly into low, wide shrubs and generally have a weeping form.  At CREC, some 3-year-old plants were 2-3 feet high and 3-4 feet wide.  In wetter areas of the country, they could grow about twice as big.  The branches of the plants are not very heavy, but almost all of them are covered with a dense coat of spines.  In general, the spines are not as tough or sturdy as rose thorns, but you will want to wear gloves and long sleeves when you handle the plant.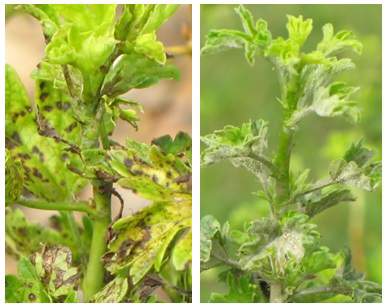 Thirteen varieties of gooseberry were planted in the orchard in 2007-2008.  In the seasons after their planting year, many of the varieties were severely affected by powdery mildew, anthracnose and other leaf spot disease.  In subsequent springs, the affected shoots were dead and had to be removed.  Fruiting was negligible on these plants.  Commercial fungicides were not applied as they are not readily available to the typical homeowner.
In fall 2010, the most severely affected plants were removed from the orchard and destroyed.  Eight varieties were judged to be worthy of continued observation and were moved and replanted from rooted shoots that had developed in the mulch.  We hope that removal of the plants that harbored the most disease will benefit the remaining plants. 
It may seem counterintuitive, but the dry conditions that we experience in North Dakota are actually helpful to infections by powdery mildew.  The fungus can infect dry leaves and does well in shaded areas of the canopy.  The higher humidity there helps spores germinate, though standing water droplets do not.  Young, succulent tissue is most susceptible, so nitrogen fertilizers that encourage growth should be carefully considered before application.  Our plants are thinned by spring pruning but even so, disease was prevalent in susceptible varieties.
In our demonstration, 'Pixwell' was one of the hardest hit varieties.  However, a visitor told us that he had had 'Pixwell' as a hedge for countless years and it is completely healthy.  This may be an example of misnamed cultivars in the industry.

Barney, D.L., Hummer, K.E. (2005). Currants, gooseberries and jostaberries: A guide for growers, marketers and researchers in North America. Binghamton, NY: The Haworth Press, Inc.