Aronia – Aronia mitschurinii
A native plant gaining in popularity for its nutraceutical fruit, ease of growth and large yields.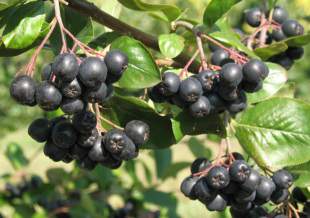 Aronia is a non-traditional fruit with a lot of potential across the United States.  A native North American plant that is also known as black chokeberry, it was developed into commercial varieties in Eastern Europe and later reintroduced to the United States. The plants used for fruit production are tetraploid crosses and are alleged to have been bred by Russian biologist Ivan Michurin over 100 years ago.1  It is a USDA hardiness zone 3 shrub that expands from the crown and does not sucker aggressively.  There are both  landscaping and fruit production varieties available, but all aronia have shiny, dark green leaves, white umbels of flowers,  few pests and bright red fall foliage.  Fruit in the genus may be red or black.
Edible aronia fruit is blue/black and has been cited as having one of the highest phytonutrient contents of any fruit.  They are useful as a dye, food colorant and food ingredients.  Anthocyanins are reported to be 1% of the fruit's dry weight. 2
Most of the world's aronia production is based in Poland.  Gazeta Wyborcza reported on March 9, 2008 that Polish production was 35-40,000 tons, or 90% of world production.  Of this, 90% is pressed into juice concentrate for export to the US and other countries.  Poland itself uses the remaining 10% of the fruit.3
Iowa Extension estimates that 300 acres of aronia have been planted there (approximately 360,000 plants, 2010), and many plantings are being installed in other parts of the country.  Wisconsin has a group of growers working on processing details and the Midwest Aronia Association was formed in spring 2010.  Several people have planted aronia here in North Dakota.
Aronia can be eaten fresh as it has a sugar content of 17-22 Brix, but most people will find it too strong and too astringent for ready enjoyment.  It is best to freeze the fruit and then process it into a product like jelly, juice, wine or add it to a dairy product like yogurt or ice cream.  Aronia is quite productive, with reports of 30lbs of fruit per shrub, or more, at maturity.
A scan of the internet will produce numerous scientific reports demonstrating the effectiveness of aronia extracts in regard to heart disease, diabetes and general health.  Readers of these reports should be aware that whether the tests were completed in animal models or with human subjects the products or compounds fed to the test subjects were generally concentrated or purified forms of aronia berries and not blended juice drinks.
Growing Aronia:  There aren't any secrets:  They should grow!  Plants are hardy to zone 3 and expand from the crown and through non-aggressive suckering.  Plant them as they came in the pot or slightly deeper, about 4 feet apart.  Mulch them to prevent weeds and moisture loss and keep them adequately watered the first year.  Fruit should develop in the third year and continue from there.  You can easily expect 10 pounds of fruit per shrub when it gets bigger.
The fruit will swell and turn blue-black in late summer.  It won't be ripe for about 2 weeks though.  Taste the fruit to decide when to harvest.  The berries are not good at all when unripe but get juicier and better tasting when ready (but it's still not something you'll want to eat a lot of outright) The fruit is not bitter – it is astringent: it dries out your mouth.  Freeze the fruit and use in quick breads, smoothies, in yogurt or ice cream, and jelly.
At CREC, we have only seen two pests:  Pear slug sawfly larvae that feed on the upper surface of the leaves and lace bugs the feed on the lower leaf surfaces.  When pest numbers are high, both have been controlled with a single application of spinosad in mid-summer.
Brand, Mark. 2010. Aronia: Native Shrubs with Untapped Potential. Arnoldia. 67:3.
Slimestad, R. et al.  Flavonoids from black chokeberries, Aronia melanocarpa.  Journal of Food Composition and Analysis. 18: 61-68.
Makarenko, Vadim. "Marek's juice, czyli Polska potęgą aronii." Gazeta Wyborcza. 9 March, 2008.