Apples – Malus domestica

Apples!  They are one of the easiest fruits to grow and certainly the most popular fruit crop grown by home gardeners.
In North Dakota, we can only grow a small selection of the thousands of varieties of apples known around the world.  At CREC, our five varieties were chosen from selections at our local nursery – and this is a good strategy for you, too. (Get bare-root trees if they are available.)  Most local nurseries will only carry trees that are hardy in your local conditions. The same cannot be said for larger, non-nursery stores that sell plants in the spring.  Their plants are generally not selected by a locally-knowledgeable person. Consult this list of Minnesota varieties as a place to start making variety selections.
Growing Apples: In general, hardy trees for North Dakota are standard (full-sized) trees and not on dwarfing rootstock.  (NDSU started a research project in 2014-15 to determine if the available dwarfing and semi-dwarfing rootstocks are hardy in ND).  For optimal production, disease reduction and tree health, you should prune your apple tree, starting from the time you plant it.  Strategies vary depending on the age of the tree you buy.  Consult this publication for good advice: Training and Pruning Apple Trees.
Plant your tree where it will get full sunlight, some wind protection,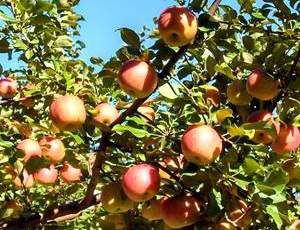 and where it will be easy for you to watch it.  Out of sight, out of mind!  For best results, always mulch the tree to the width of the branches for the first five years.  Grass growing over the roots really hurts trees – and so does your mower.  Don't fertilize the tree and keep lawn fertilizer away from it, too. 
Once the tree starts to bear fruit, don't let it over crop.  Remove all fruit for several years after planting.  Later, remove all dime- to nickel-sized apples from the ends of small branches. In stronger parts of the tree, thin the cluster of small apples to a single, well-formed fruit. Sensible thinning can reduce biennial bearing and possible branch breakage. Early thinning is far more effective than late.  This publication is a good general reference to help you grow your crop.
Let's look at CREC's varieties:
Hazen: In its early years, it grows fast and may get a bit of fireblight.  In five years, growth should slow down and it will self-regulate into a natural semi-dwarf tree.  It bears every year and needs thinning.  When fruit turns dark red in late August, pick and immediately refrigerate.  Flavor is good and 'apple-y'; for any use but it only stores about one month.  Reliable.
Honeycrisp:  Excellent fruit and a nice growth habit.  May need to ripen until the first week of October, and fruit may stay a bit tart.  Don't be alarmed by the 'Honeycrisp Leaf Complex'. Usually bears every-other year. Fruit keeps a very long time and flesh stays crispy.
Zestar:  Fruit has a softer flesh, like McIntosh, but is still crispy with outstanding flavor.  A spur-bearing tree whose branches will grow pretty upright.  Be prepared to train the tree for a proper shape.  Ripens just after 'Hazen'. 
Sweet Sixteen:  Branch growth is tulip-shaped, where the tips of the branches eventually want to meet at the leader.  Requires a lot of training.  Because of the vertical growth habit, it does not bear fruit for many years.  Ripens after 'Honeycrisp'. Fruit is uniquely cherry-flavored.
Haralred:  Our selection bears precociously every year on every branch.  Thin the fruit!  Visitors speak of fine fruit on their tree at home but at CREC, it ripens very late and flavor is weak.  There are better choices.