Understanding and Managing Blemish Problems in Fresh Market Potato
Blemishes are a big problem fresh market potato growers often face. They can cause 15% or more of potatoes to be culled or cause rejected loads. Smooth-skinned tubers in particular are especially vulnerable to blemishes because they are easily observed. This work evaluated blemishes on tubers from a survey of potatoes collected from potato growers, and evaluated the effects of fungicides on blemishes.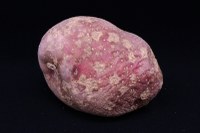 The biggest challenge of providing a high quality potato is to produce tubers free from blemishes, because consumers "buy with their eyes" as they naturally gravitate to tubers free from blemishes. Fresh market potato growers will often cull 15 to 20% of their crop because of tuber blemishes. Blemishes can be defined as any flaw or imperfection that spoils the appearance of the tuber, thus making it unmarketable. Smooth-skinned tubers (red, white, and yellow) in particular are especially vulnerable to blemishes because they are easily observed.
The primary blemishes fresh market potato growers face today include, but are not limited to, silver scurf, black dot, scab, unattractive skin color, malformed tubers and other unknown blemish problems. The overall purpose of this research project was to reduce loss of fresh market potatoes and improve the overall returns to fresh potato growers. We determined the blemish complex by surveying the types of blemish that are currently causing loss and determined what management methods are available for controlling these blemishes.
In Minnesota, 11 samples were taken from 8 different fresh pack sheds to be evaluated for blemishes. There were seven red-skinned cultivars, three yellow-skinned cultivars, and one white-skinned cultivar. The most prevent blemishes by percent were external bruise/skinning (36%), lenticel spot (33%), superficial common scab (25%), and black dot (22%). Other blemished found were skin netting (13%), silver scurf (9%), enlarged lenticels (7%), black heart (5%), greening/sunburn (5%), pitted common scab (2%), growth crack/secondary growth (2%), hollow heart (2%), wireworm (2%) and soft rot (1%).
In North Dakota, samples were collected from 17 different red-skinned potato lots. From these samples the most prevalent blemishes were skin netting (40%) and external bruising/skinning (35%). Other blemished documented were superficial common scab (15%), black dot (14%), growth cracks (14%), lenticel spot (10%), silver scurf (7%), enlarged lenticels (6%), pink or light color (4%), and vascular discoloration (3%). Blemishes such as external bruise, lenticel spot, and sunburn can be controlled through cultural management practices. These data indicate growers could improve quality by taking more care when handling potatoes, allowing potatoes to dry sufficiently after washing, and ensuring complete soil coverage over tubers to prevent greening.
The use of plant growth regulators to improve blemishes was evaluated in Becker, MN and Grand Forks, ND. In each trial, plant growth regulators did not effect total yield. The use of NAA (naphthaleneacetic acid, Rejuvenate) on seed reduced stem number at Grand Forks from 4.5 (non-treated) to 3.3-3.7 stems/plant. This was likely because the stem number of the non-treated was higher in Grand Forks than Becker. In Grand Forks, blemishes were not affected by the growth regulators used. However, in Becker, MN ethephon (2-chloroethyl-phosphonic acid) reduced netting/russeting on tubers, but increased the amount of pitted scab and lenticel spot. The use of 2,4-D did not increase or decrease blemishes.
Trials conducted in Grand Forks, ND and Becker, MN showed that some fungicides reduced black dot/silver scurf blemishes. Those that were most consistent were Emesto Silver, Quadris, Nubark Mancozeb + Moncot 70 DF, and Maxim 4 FS (Table 1). Other treatments showed promise, but were not consistent as the previously mentioned products.  
We have learned from this first year of study that blemishes were common from tubers sampled, and some can be controlled by management practices. Plant growth regulators generally did not effect blemishes, except in the case of ethephon. Fungicides at planting reduced blemishes in some cases. Further research is being conducted on this project and will be reported in the future.   
Table 1. Effect of fungicide treatments on black dot/silver scurf blemish of Red Norland and Yukon Gold potato seed in Becker, MN and Grand Forks, ND in 2015 and.

Treatment

Rate

Schedule

Blemish %

 

 

 

 

Becker, MN

Grand Forks, ND

 

 

 

 

Red Norland

Yukon Gold

Red Norland

Yukon Gold

1

Non-treated

-

-

68.5

48.8

22.0

5.2

2

Moncut 70 DF

1.1 lb / a

In-furrow

67.8

61.9

28.5

3.8

 

Moncut 70 DF +

1.1 lb / a +

In-furrow

66.2

46.4

18.3

3.9

 

Serenade

6.0 qt / a

In-furrow

 

 

 

3

Quadris

11.6 fl oz / a

In-furrow

50.0

43.9

13.8

3.4

4

Vertisan

23 fl oz / a

In-furrow

65.3

51.5

21.1

3.8

5

Priaxor

8.1 fl oz / a

In-furrow

67.3

55.2

18.9

4.7

6

Nubark Mancozeb

1.0 lb / cwt

Seed

41.3

41.5

11.1

4.3

 

Moncut 70 DF

1.1 lb / a

In-furrow

 

 

 

7

Emesto Silver

0.31 fl oz / cwt

Seed

37.4

41.2

9.5

3.7

8

Omega 500F

3.0 pt / a

In-furrow

69.0

62.5

24.7

3.8

9

Luna Tranquility

11.2 fl oz / a

In-furrow

66.8

65.3

18.1

5.1

10

Regalia

8.8 fl oz / 1000 row ft

In-furrow

66.6

55.2

25.2

5.3

11

Maxim 4FS

0.08 fl oz / cwt

Seed

33.4

35.4

6.7

5.2

LSD p>0.05

7.90

6.70

5.80

1.15
Andy Robinson, NDSU/U of M Potato Extension Agronomist
Gary Secor, NDSU Plant Pathologist