Potato Scout School
The NDSU/U of M Potato Scout School will be held on February 19, 2015 from 12:30-4:00 pm at the Canad Inn in Grand Forks, ND. This event will provide training on potato diseases, insects, and weeds by the NDSU and University of Minnesota Potato Researchers and Extension Specialists. The focus of training will be to assist those who are new to the potato industry as well as help those who have been around for a while sharpen their skills in pest identification and crop management. Registration is required because seats are limited. There is no cost to this event because of generous sponsors.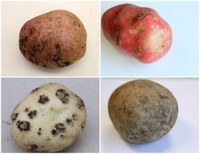 What diseases do you see here?
Speakers include Dr. Neil Gudmestad, Dr. Gary Secor, Dr. Ian MacRae, Dr. Andy Robinson. Diseases, insects, weeds will all be discussed. Thanks to NDSU Extension service, Gowan, Amvac, and TKI NovaSource for sponsoring this event. This event is free. The 2015 class is now full. If you would like to be put on the waiting list please register here.
Agenda:
12:30 Lunch, sponsored by Gowan
12:45-1:30 Potato Diseases I, Dr. Neil Gudmestad
1:30-2:15 Potato Diseases II, Dr. Gary Secor
2:15-2:30 Break, sponsored by Amvac Chemical
2:30-3:15 Weeds, agronomy, potato diagnostics, Dr. Andy Robinson
3:15-4:00 What's Bugging you, Dr. Ian MacRae
Room sponsored by TKI NovaSource