North Dakota Seed Potato Crop in 2012
A review of the 2012 North Dakota potato seed crop by Willem Schrage from the North Dakota State Seed Department.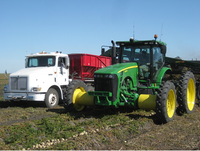 Harvesting Russet Potatoes in Grafton, ND
Growing conditions for the seed potato crop in North Dakota were generally favorable, but harvest conditions were less so, being too dry in September and too wet in October.  Seed potatoes generally were harvested before the rains kept coming.  "Dry land" potatoes were actually in dry land.  Early planting, dry and warm conditions were favorable for insects, but kept late blight at bay.   The early planting and warm growing season for the seed potato crop should result in early emergence and growth.  Large fields of homogenous rich soil also create conditions for a crop that is uniform with much vigor.
Varieties are changing in North Dakota.  Clearwater Russet, Altura Russet and Blazer Russet have disappeared altogether.  Ranger Russet, Umatilla Russet and Russet Burbank are holding their own.  In 2012 14,446 acres of seed potatoes were certified, which makes North Dakota the second largest seed potato producing state in the country. Norland selections covered over 5,000 acres, followed by Russet Burbank, Dakota Pearl, Umatilla Russet, Red LaSoda and Ranger Russet.
The greatest increase in the last five years has been the Dark Red selection of Norland that more than doubled to over 3,500 acres.  Dakota Pearl also comes out as a winner with doubling of the acreage compared to five years ago to over 1,500 acres.  The varieties Prospect, the Norkotah strains, Bannock Russet, Modoc, Colorado Rose, Dakota Crisp all more than doubled their acreage in the last five years. GoldRush, Shepody and Yukon Gold have lost acreage over the same period in the state.  North Dakota produces several new varieties in smaller acreages, such as: Harley Blackwell, Lady Claire and Monticello for chipping, or french friers as Alpine Russet and Teton Russet, but most varieties for the fresh market such as Colorado Rose, Dakota Rose and yellow flesh varieties such as Melody, Sierra Gold, Agata, Milva, Satina, Augusta,  Ambra, Romanz and Bellarosa.
North Dakota seed potato sources can be found in the ND Seed Potato Directory, which is available at the North Dakota State Seed Department, PO Box 5257, Fargo, ND 58105-5257, or by phoning 701 231 5400, or on the internet at www.ndseed.com.
Willem Schrage, ND State Seed Department