Minnesota 2012 Certified Seed Potato Crop
A summary of the 2012 Minnesota seed potato crop by Michael Horken from the Minnesota Department of Agriculture.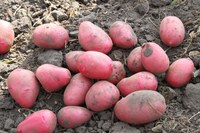 In 2012, 6,081 acres of seed potatoes were certified in Minnesota, which was down from the 6,975 acres certified in 2011.  The Norland variety which includes the Red and Dark Red selections has the largest combined acreage with 1,496 acres and Russet Burbank is second with 1,353 acres. Other notable red varieties include Dakota Rose with 390 acres, Red Pontiac with 311 acres, Red Lasoda with 315 acres and Chieftain with 273 acres. The three major white varieties are Dakota Pearl with 346 acres, Kennebec with 319 acres and CalWhite with 151 acres. Overall 91 varieties and 18 numbered clonal selections were certified in 2012.
With a warmer than average winter and very little snow cover, growers were able to start planting earlier than normal and finishing approximately 1 – 2 weeks ahead of normal. The spring started out with ideal growing conditions. Summer growing conditions, however were not so ideal. Most of the summer was hot and extremely dry in most of our growing areas. This did play toll on yields however; growers were surprised and pleased with their yields giving the dry conditions. With harvest approaching, some of the growers, especially the ones growing reds for the fresh market, delayed harvest due to lack of moisture that was causing some bruising and skinning of the potatoes.  Most of the seed acres were harvested before the rain and an early snow that came in October, however approx. 80 acres of seed did not get harvested before the below freezing temperatures set in.
A few growers have started shipping seed to the southern states and also exporting seed to Uruguay and the quality has been very good.
The post-harvest winter test plot has been planted in Hawaii. This test is vital to keep viruses, such as Potato Virus Y and Potato Leafroll, at an economic threshold that's acceptable within industry. This is a mandatory requirement for all potatoes entering the certification process in all states. Readings will take place the first three weeks of January with the results sent out to the seed growers by the end of month.
Michael Horken, Minnesota Department of Agriculture