Heat Crinkle
Emerging Russet Burbank under heat stress can result in a phenomenon we call heat crinkle. It may look like herbicide damage, but the chlorotic and crinkling leaves are a result of the shootings being exposed to high temperatures in the hill as they are growing through that zone. The high temperatures cause cell damage resulting in some shoots loosing apical dominance and leaf crinkle.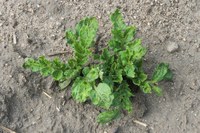 Heat crinkle of Russet Burbank potato leaves affected by high temperatures
High temperature is an uncontrollable environmental condition that can significantly affect potato production. Russet Burbank, the most widely grown potato variety, is sensitive to high temperatures. When high temperatures come suddenly they can shock and stress the plant. It is well known that Russet Burbank will develop knobs, second tubers, and sugar ends when heat stressed during tuber development. Less is spoken of the early season effects of heat. Lately, there have been many fields that have emerging shoots that are crinkled and sometimes have chlorotic leaves. When heat stressed plants are dug out of the hill, some of the plants will have a 'candelabra' or splitting of shoots starting part way up the stem, because the cells in the growing point die and the shoot loses apical dominance. When this occurs, the axillary buds will grow causing the multiple shoots (similar to if you pruned a branch and allowed the axillary buds on the stem to regrow).  These effects can be attributed to the hot and sunny days that increase the soil temperature and when the soil is dry. This is especially apparent in sandy soils where the soil temperature can increase rapidly with sun and high temperatures. The plants typically hide the crinkled leaves within a week or two after emergence as new leaves emerge.