Storing Skinned and Bruised Potatoes
Harvest of fall 2012 potato harvest of red-skinned potatoes prior to rain and snow was difficult because of the dry conditions.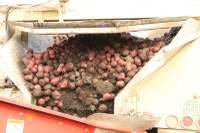 Truck with potatoes and dirt clods
The beginning of the 2012 harvest was quite different than that of years past. Instead of dealing with mud and cold temperatures, potato harvest was greeted with warm and dry conditions, but that changed with an early snow storm on October 4th. Prior to October 4th, approximately 83% of potato acres in North Dakota were harvested with dry soil and many tubers had skinning and bruising. Some of the situations that might be faced with the storage of potatoes harvested under dry and hot conditions and what can be done to mitigate long-term effects will be discussed.

The number of potatoes coming out of the ground was rivaled with by the number of dirt clods coming up the chains and being transported in the trucks. Because the ground was so dry, clods were big, hard, and difficult to soften. These dirt clods shifted and fell with potatoes while moving potatoes. This caused skinning and bruising to occur. Potato skinning can: reduce marketability, cause tubers to lose moisture, increase susceptibility to pressure and blackspot bruising development, and increase susceptibility to fungal or bacterial organisms. In one study storage of skinned tubers had a 7.1% dry matter loss compared to a 0.1% loss in dry matter of undamaged potatoes. To manage skinning, allow tubers to heal by adjusting the temperature to 55-60 °F with 95-99% humidity for 3 weeks. A newly formed skin will protect the tubers from moisture loss and infections of pathogens. Red-skinned potato skin is not replaced to a red color during wound healing, rather a light off-color blemish is formed in the regions where skinning occurred.

In addition to skinning, many potatoes were bruised as a result of the dirt clods. The most frequent types of bruising were thumbnail and blackspot bruising. The openings made from the thumbnail bruising can lead to pathogen infection. Fungal and bacterial inocula can be present on the tuber skin, in soil clinging to the tuber skin, or in infected tubers. Some diseases (this is not a comprehensive list) to keep a watch for are dry rot (Fusarium spp.), leak (Pythium spp.), and bacterial soft rot (Erwinia spp.). Maintain good air movement and humidity can reduce disease outbreaks. However, a bin with high levels of damage or disease may be best to sell sooner rather than store late into the winter. As always, constant monitoring of potato bins will be essential this year.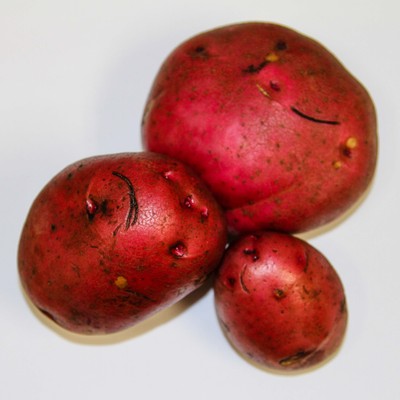 Thumbnail bruise caused from dry harvest conditions.
Blackspot bruising is all too common for potato producers. Blackspot bruise is a small, dark and discolored area under the potato skin. It is typically not seen until the tuber is peeled. To get an estimate of the amount of blackspot bruise, tubers can be placed in 90 °F for 72 hours then steam peeled. An increase in the amount of blackspot bruise may be found this year because of the dry conditions, and it may be especially apparent on stem ends. Research has found that blackspot bruising has a greater chance of occurring when tubers are dehydrated, while shatter bruising is more likely with hydrated tubers. When moving potatoes, try to minimize drops and perform bruise tests to identify changes in operations that may increase or decrease bruising.

Andy Robinson, PhD, NDSU/UM Extension Potato Agronomist