Aphid Alert, week ending August 9, 2019
Aphid numbers took a big jump this week, with some important vector species (including Green Peach Aphid) making appearances. Cumulative seasonal catch increased by almost 50% with last week's catch from 214 last week up to 411 including this week's catches. Consequently the Vector Risk numbers rose sharply, doubling over last week.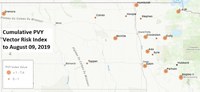 A new Aphid Alert is available at http://aphidalert.blogspot.com/
Bottom line - aphids are flying, the late summer dispersal events have started and scouting and weekly oil treatments are strongly recommended.