Aphid Alert
Trap catch did vary slightly this week. Vector numbers were up at Brooks (81), Gully (35), Moran (25), McVille (84), Hoople (92), Staples (39) and Humboldt (183) vectors. This year continues to be a very high vector year. Soybean aphids are still on the rise throughout much of MN. Some of these populations continue to show pyrethroid resistance. Due to another week of high vector catch numbers, crop oils are again highly recommended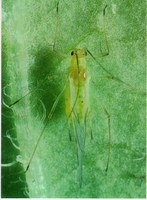 Trap catch did vary slightly this week. Vector numbers were up at Brooks (81), Gully (35), Moran (25), McVille (84), Hoople (92), Staples (39) and Humboldt (183) vectors.  
This year continues to be a very high vector year. Soybean aphids are still on the rise throughout much of MN.  Some of these populations continue to show pyrethroid resistance. 
We have started to test for soybean aphid resistance in some NW MN fields. We are looking for samples from sites that are experiencing levels of resistance. That way we will have a better idea of both where we are seeing this resistance as well as what the actual level of resistance is.
Due to another week of high vector catch numbers, crop oils are again highly recommended. 
More detailed information can be found at: