BBQ Boot Camp 2012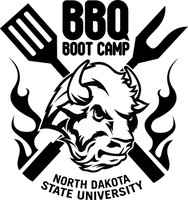 MAKING THE FARM-TO-FOOD CONNECTION
This Spring we will be back for our fourth annual NDSU BBQ BOOT CAMP! Thank you to everyone who helped make our program a success in 2009, 2010 and 2011. In total, we have been able to reach out to about 2000 people in North Dakota! Our team success helped us earn the honor of receiving the 2009 Program of Excellence Award through the NDSU Extension Service.
If you'd like to learn more about our program please come join us at one of our events or contact us for more information at any time.
NDSU animal science faculty are partnering with food science faculty and the NDSU Extension Service to hold 4 BBQ BOOT CAMPS from June through July.
The BBQ Boot Camp will introduce people to new cooking methods and practices. The program also will cover topics such as meat cut selection, methods and theories of cooking, food safety and variations in barbecuing practices, such as using rubs, marinades and seasonings. In addition, participants will receive information on current topics in the pork, beef and lamb industries, including research, teaching and Extension activities at NDSU.
"BBQ Boot Camp is a unique opportunity to explain and discuss current topics in the food industry at the grass-roots level, all while having a lot of fun with barbecue," says David Newman, NDSU Extension swine specialist.
Meat cut selection will emphasize value cuts, which are considered excellent for barbecuing if people use proper cooking methods. Meat selection education also will include information on typical retail cuts.
Instructors also will analyze the differences among smoking and charcoal cooking methods and help participants understand how the compositional differences in meat animal species, cooking temperatures and humidity affect the success of barbecuing.