Corn Hybrid Testing Program, North Dakota State University
Procedures of and results from the corn hybrid testing program in eastern North Dakota. This page also contains a link to the corn hybrid entry application for those companies wishing to enter hybrids into the trial program and to the results of other hybrid trials conducted by Research Extension Centers within the North Dakota State University Experiment Station system.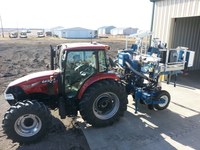 Purpose
The purpose of this site is to provide information on the comparative performance of corn hybrids based on the data from replicated hybrid trials in various regions of North Dakota and adjoining areas in Minnesota.  Research has demonstrated the value of using data from multiple locations and years in selecting a hybrid. The primary focus of this site to provide information for the hybrid testing program conducted by researchers located on the main campus of NDSU. Links will be provided to all corn hybrid trials conducted by the Research Extension Centers and the NDSU Extension publication "North Dakota Corn Hybrid Performance Results", which summarizes the corn hybrid trial results for all of the state. The precision planter used in establishing the plots, which was provided by the North Dakota Corn Council, is pictured on the right. 
New to the program in 2017 is a pair of drones.  Our primary one, an ATI Agbot, nicknamed 'Hal', is equipped with a MicaSense RedEdge camera, while and 'Lil Hal', a DJI Phantom 4, has a Sentera NIR camera, and a color camera for taking photos and video. Both cameras allow us to monitor crop health throughout the season and scout plots on a real time basis to more quickly identify areas of the field that may have problems.  In turn, we can then use the images captured and stitched together, import them into a GIS software, and compare plots using NDVI data and statistical analysis. (click here for a video of Hal in action)
2020 Trial Entry Information:
Trial locations in Eastern North Dakota and Minnesota:
During the 2020 growing season, hybrid trials in eastern ND were conducted in 10 locations. These locations are:
Southern Zone:  Ransom County, Richland County, and Sargent County
Central Zone:  Cass County, Steele County, and Traill County
Northern Zone: Grand Forks County, Ramsey County, and Marshall County, MN (test strip in photo provided by NDSU)

Photos and GPS locations will be updated during the growing season.
2019 Harvest Data

Excel file of all trial results currently available can be downloaded here - excel file
Northern zone, early maturing hybrids combined all locations
Northern zone, late maturing hybrids combined all locations
Central zone, early maturing combined all locations
Central zone, late maturing combined all locations
Southern zone, early maturing hybrids, combined all locations
Southern zone, late maturing hybrids. combined all locations

 
Site by site summary of 2019 growing season
Grand Forks County plot tour 2018 video
Sargent county plot tour 2017 video
Steel County plot tour 2017 video
Contacts
Joel Ransom, NDSU Extension Agronomist - Cereal Crops
joel.ransom@ndsu.edu
Cell: 701-730-0384 
Darin Eisinger, NDSU Research Specialist, Corn Hybrid Testing
darin.eisinger@ndsu.edu
Cell: 701-371-2343