Juneberries – Amelanchier alnifolia
Well-loved native fruit also known as Saskatoon or serviceberry.
Juneberries are well loved on the Prairies but are known worldwide.  They have long been a part of human history and are known by many names:  Saskatoons in Canada, and Juneberries, serviceberries and shadbush in America.  North American native people made Juneberries an important part of their diets.  On the Plains, it was an important ingredient in pemmican, a blend of berries, dried meat and fat.  Explorers, missionaries and settlers who had collected and eaten woodland varieties in the East, made Juneberries a part of their diet on the Plains.
Though some commercially available Juneberries are the result of a breeding plan, most are just selections made from wild plants or from sports that developed in Juneberry orchards.  Juneberries are difficult to propagate.  As a result, nurseries in the US rarely carry the better cultivars.  The Prairie Provinces of Canada have been developing their Saskatoon orchards and markets for many years and propagators from the region carry the most successful varieties such as: 'Honeywood', 'JB30', 'Lee 3' 'Lee 8', 'Martin', 'Northline', 'Parkhill', 'Smoky' and 'Thiessen'.  There are about 30 cultivars but many have fallen out of favor.
In Alberta, Manitoba and Saskatchewan, the 2011 Canadian Census of Agriculture counted 650 farms growing 2,764 acres of Saskatoons (Juneberries).   In 2014 data, the three provinces produced 399 tons of fruit on 2,224 acres with a farm gate value of $1.34 million.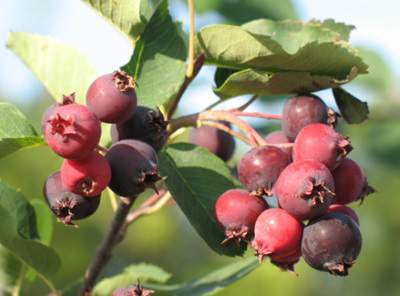 Growing Juneberry: Juneberries are members of the Rosaceae (Rose) family as are apples and aronia.  While aronia are quite resistant to pests and diseases, Juneberries, like apples, can be bothered by a host of insects and diseases.  Diseases of importance are: Entomosporium leaf and berry spot, juniper-apple rust, fireblight, brown fruit rot, Cytospora canker, powdery mildew and blackleaf.  Insect problems include: wooly elm aphids, thrips, mites, bud moths, Saskatoon sawflies that burrow into the fruit and pear slug sawflies that eat leaf surfaces.   A comment from a University of Saskatchewan researcher indicated that, at least in their area, Juneberries couldn't be grown organically.
At CREC, our primary problems have been wooly elm aphids feeding on root hairs of young plants, Entomosporium leaf and berry spot, and flower thrips.  Tom Nowatzki, whose family has a Juneberry orchard near Langdon, ND, indicates that flower thrips, Entomosporium leaf and berry spot, juniper-apple rust, powdery mildew and stem cankers are their primary problems.  Entomosporium leaf and berry spot will be a problem if your planting is in an area that stays wet or damp.
Birds are the primary animal pests of Juneberries, but raccoons, deer and even your dog will love them.  Birds can be kept away with netting that is placed over the plants just after the berries start to swell.  Large plantings may have enough fruit to share with the birds –100 plants is not large enough.