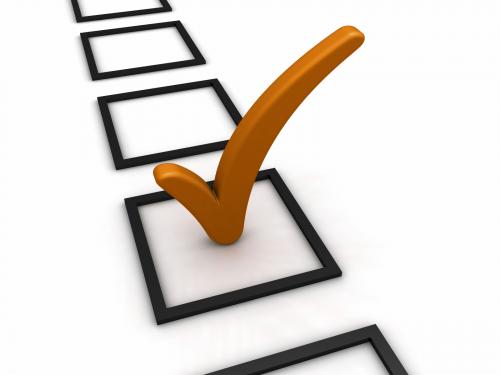 How do you take event registrations? Over the phone or maybe by mail? How about event evaluations? Are you relying on interviews? What about newsletter sign ups? Do you have to write down someone's email address and remember to include them in sending out your next newsletter or update?

I hope that you are using online forms for anytime you need to gather, organize or evaluate. Recently I've been seeing people print off conference proposals or contest samples and it seems very inefficient. They have the printouts on the ground or on the table, pouring over the results and trying to organize them into something meaningful.

But it doesn't have to be that difficult. There are several options to using online survey/form tools that are free and easy to use. The next time you think of gathering responses via paper, ask yourself:

1. Do I have the space to lay out all the print outs for review? What if you had a bad back or knees and are on the floor going through all the papers (I've seen this done!). A little extreme, but still.
2. Do I want to waste paper and ink when there are online options?
3. Do I want something portable – where I can view the results online in case I leave the stack of responses at my office (or I'm snowed in!).
4. Do the respondents want to have to print off the form? And mail it? Or deliver it to you? Or remember to do either? I suspect that gathering responses from print forms might decrease survey participation.
5. What if you can't read respondents' answers or comments?
6. What if they skipped some very important information that makes the results invalid? For instance, what if you asked them their meal preference during the event and if they did not mark an option, should you guess at what they'd like?

There are a lot more reasons why online forms make sense vs. paper forms, but I just wanted to show some scenarios that I've actually seen happen that make it really difficult for feedback to be given and taken.

You can avoid all those scenarios with online forms. There are all kinds of tools out there and many of them are free. I'll focus on three that I've seen used most in our organization, all of them being decent tools for simple forms and free for you to use.



| | | | | |
| --- | --- | --- | --- | --- |
| Feature | Survey Monkey Basic | Survey Monkey Paid (Pd. by AgComm) | Ag CMS | Google Form |
| Login considerations | personal | need one from Ag Comm | Ag CMS login | Gmail or eXtension login |
| How many questions per survey | 10 | unlimited | unlimited | unlimited |
| # of Question Types | 15 | 15 | 6 | 6 |
| Templates available | yes | yes | no | yes |
| Real time responses | yes | yes | no | yes |
| Get email notification when someone fills out the form | no | no | yes | yes |
| Can share directly to FB or Twitter | yes | yes | no | yes |
| Send form directly via email | yes | yes | no | yes |
| Embed directly on a website | yes | yes | no | yes |
| Put responses directly into a chart | yes | yes | no | yes |

Google Forms
In my opinion, Google Forms are the easiest to use. Many of us already have a Gmail account. And Google forms work seamlessly with other Google tools. The biggest barrier I see, which isn't very big, is that people need a Gmail account or their eXtension user name to use. Check out eXtension's webinar on how to use Google forms.

Survey Monkey
I know a lot of staff use SurveyMonkey. I have never used this tool, but when I did some testing it was quite easy to use like the Google form. Two main thoughts on SurveyMonkey forms:


· If you are doing a short survey (10 questions or less) you can make/use your own login. If you need to ask more than 10 questions, you can use Ag Comm's paid subscription. Just email Linda McCaw for the user name and password.
· The only thing I don't like about SurveyMonkey is that it doesn't send email notifications when someone completes a form. That's why we use a Google Form for Ag CMS and new site sign ups because we want to be notified immediately when someone requests these, so we can grant access. It's nice to have the immediate notification in that instance.
Ag CMS
This may be the most handy online form tool you have, because if you have an Ag CMS login, you already have access to create a form and include it on your site. Forms in Ag CMS allow you basic survey functionality, but the other two options do have some superior functionality:


· They offer themes and templates. With Ag CMS you start from scratch.
· Perhaps the largest problem with Ag CMS is the reporting. The results are not real-time so if you want the most up-to-date results, you'll have to download the file each time.
· Note in the chart that "directly" is used in the Feature column. With Ag CMS, you CAN share your form on social media, in an email and on your Ag CMS site, but you do it via link- not directly – so that means people need to take an extra step instead of having those options embedded.
· Form results – if you want results in a graph form, you have to take the extra step of converting the CSV file into Excel and then choosing the graph option. Again, an extra step.

Learn how to use forms in Ag CMS

Numbers Aren't Every Thing
In the chart you can see that you can only ask 10 questions with a basic SurveyMonkey login. That's really not so bad because people don't like long surveys.

Ag CMS and Google Forms seem to be inferior to SurveyMonkey because they only allow for 6 question types (i.e. multiple choice, checkbox, etc.). But really, the question types they DO offer suffice for a simple survey.

In these cases just because you have more options doesn't mean it's the better tool.

I've Chosen an Online Survey Tool, Now What?
View the Surveys in Extension from eXtension. It's an excellent webinar on how to create great surveys.

If you have any questions about using forms/surveys, please contact Sonja Fuchs or Bob Bertsch

Image courtesy of Hypermiler: http://www.hypermiler.co.uk/wp-content/uploads/2011/07/survey_icon.jpg

Sonja Fuchs
Web Technology Specialist
NDSU – Ag Communication
Posted by Sonja @ 09:18 AM CDT