Welcome

Eye on Agriculture: Drone Use on Farms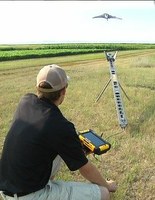 John Nowatzki, ABEN agricultural machine systems specialist, said during the interview: "There has been remote sensing from satellites and manned aircraft for decades but there are issues with that - it's not as timely.  Here we can go up now and in a half-hour have that image and an index across the field."
He figures some farmers will buy their own drones.
More at: http://www.kxnet.com/story/29558174/eye-on-agriculture-drone-use-on-farms
Conference offers insight into UAVs and ag
"The future is still evolving. Farmers are business people. They can't afford to be making wrong decisions," said John Nowatzki, agricultural machine systems specialist with the North Dakota State University Extension Service. 
See more at: http://www.agweek.com/event/article/id/26842